"If thou tastest a crust of bread, thou tastest all the stars and all the heavens."
--Robert Browning
and in this case, all the stars are the almonds and all the heavens are the cinnamon and lemon zest, that have flavored this wonderful looking ring shaped Holiday Bread - this month's theme for the Twelve Loaves Challenge.
When we were given Holiday Bread as this month's theme, I was sure that I wanted to use almonds and cinnamon, two of the most perfect ingredients to be enjoyed in a Holiday Bread with your family and friends. Luckily, I came across this recipe which makes a spectacular looking bread that will work as a perfect center piece on your dinner table. This almond brittle topped bread is traditionally an Italian one and is said to represent the unity of the family.
During baking, the bread is covered with aluminium foil to prevent the almonds from getting burnt. However, I got lost in watching TV and was late to cover the dough. The almonds turned black, but I still ate all of them. They weren't tasting much burnt actually ;)
The dough of this bread is quite enriched with the inclusion of eggs, sugar, butter, lemon zest and milk and is therefore a little on the denser side. All these ingredients especially the lemon zest gives this bread a memorable flavor that you will thoroughly enjoy. Just before baking the bread, it is brushed with a mixture of egg yolk, cinnamon, sugar and toasted almonds. I had to toast the almonds twice since I had eaten almost half of what I had to use in the recipe, they are so addictive! With your kitchen filling up with the warmth and aroma of freshly baked cinnamon, how can you forget...it's HOLIDAY TIME!!!
Recipe Source: Bread by Eric Treuille and Ursula Ferrigno
Makes one medium size loaf
Ingredients
For the Dough
500 grams / 17 ounces bread flour or strong white flour
1 plus 1/2 teaspoons regular salt
100 grams / 3.5 ounces granulated sugar
zest of 2 lemons (about a tablespoon)
1 plus 1/2 teaspoons instant dry yeast
100 grams / 3.5 ounces unsalted butter at room temperature
2 medium eggs, beaten and at room temperature
85 ml / 3
fl
ounces milk at room temperature
85ml to 100 ml / 3
fl
to 3.5
fl
ounces water at room temperature (the amount of water you need depends on your flour's absorbency)
For the Topping
1 very small egg yolk
1 teaspoon ground cinnamon
1 teaspoon granulated sugar
50 grams / 1.5 ounces almonds(blanched or not, your choice) toasted and roughly chopped
Method
In the bowl of a stand mixer, mix together the bread flour, lemon zest, sugar and salt. Add the yeast and mix. Now add the butter, eggs, milk and 85 ml water and mix. Knead the dough using the dough hook, first on the minimum speed until the dough starts to form( If the dough feels hard, add a little water at a time, until you get a soft and somewhat sticky dough) and then on speed 1 until you get a soft and elastic dough. You can knead the dough by hand as well if you want to.
Lightly oil a large bowl and rotate the dough in the bowl so as to coat the dough with oil. Cover the bowl with a cling film and let it rest at room temperature until the dough has doubled in size, about 3 and 1/2 to 4 hrs.
Knock back the dough and then leave to rest covered with a tea towel or a cling film for 10 mins.
Divide the dough into two equal pieces and roll each piece into a 24 inches / 60 cms long rope. Twist the two ropes together.
Place the shaped dough rope on a parchment lined baking sheet. Shape into a ring by bringing the two ends of the rope together. Pinch them to seal and cover with a tea towel or a cling film . Prove until doubled in size, about 1 and 1/2 to 2 hrs.
Preheat the oven to 220 degrees C / 400 degrees F. To make the topping, mix all the ingredients in a bowl and using a spatula, spread the mixture evenly over the top of the ring dough. Bake in the preheated oven until the bread sounds hollow when tapped at the bottom with your knuckles, about 45 mins. Keep an eye on the bread while it's baking. As soon as the almonds have turned sufficiently dark, cover the bread loosely with aluminum foil until completely baked.
Place the bread on a wire rack to cool completely.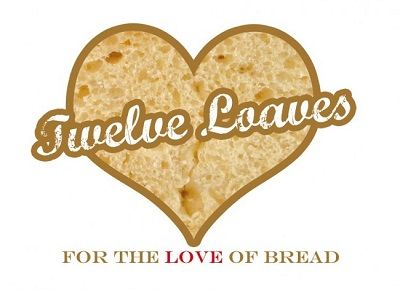 #Twelve Loaves
is a monthly bread baking party that was created by Lora from
Cake Duchess
and runs smoothly with the support of Paula from
Vintage Kitchen Notes
and Renee from
Magnolia Days
. I am thoroughly enjoying this experience of baking as part of a group. It's so exciting to look at all the other wonderful bread recipes that we all make. Wanna have a look too? Here they are:
#TwelveLoaves-Holiday Breads. November was a delightful month of spice breads. December #TwelveLoaves is here and we are celebrating Holidays! Share your December Holiday Bread (yeast or quick bread). Let's get baking!
If you'd like to add your bread to the collection with the Linky Tool this month, here's what you need to do!
1. When you post your Twelve Loaves bread on your blog, make sure that you mention the Twelve Loaves challenge in your blog post; this helps us to get more members as well as share everyone's posts. Please make sure that your bread is inspired by the theme!
2. Please link your post to the linky tool at the bottom of my blog. It must be a bread baked to the Twelve Loaves theme.
3. Have your Twelve Loaves bread that you baked this December, 2013, and posted on your blog by December 31, 2013.